Portfolio: Interfaces
Interface for Iconza
Interface of web application with customizable iconsWeb 2.0 | Startup
We needed an interface for our own project Iconza. We wanted it to be nice and contemporary and also easy to use. We wanted the interface to be breathtaking so one would say: "Wow! What a great interface!" Since we were the clients of our own, we had no limitations and could do whatever we wanted.
The project in its essence is a single page web application which serves free icons in sets and one-by-one. Icons can be recolored and resized to taste. We took a flipchart and a set of magic markers and sketched out a prototype of the future interface.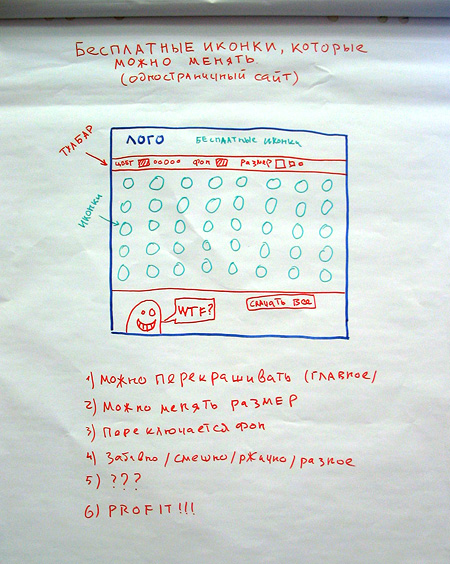 Following the modern fashion trends we picked the gothic black for the base color and dark-gray for control elements. First, they are neat. Secondly, they are not distracting from the main thing — the icons.
The main part of the interface is implemented with canvas and Mootools JS library. Django is used on the server side.
We drew a special preloader (shaped as juice squeezer), so that the visitors have more fun waiting for Iconza to load.
In order to make the process of selecting icons more fun, we created cute characters. They come out from the underneath and comment the users' actions.
The interface came out nice and handy in operation. Many people have already used Iconza and received empyrean pleasure.
Nota bene! Static pictures do not convey the whole specter of feelings. Our web technologists have used all the power of today's IT to make the interface beautifully and smoothly react to all users' actions, so we urge you to visit Iconza. So do not take our words for it, you won't regret.
Project participants
Related entries
Our Services
Many companies all around the world have already become our clients and are very pleased with the quality of our work. We are glad to offer the following services:
Please follow this link to learn more about the prices for our services. Should you have any questions related to our work process, you are most likely to find answers on our FAQ page.
If you are interested in our services or want to clarify on something, do not hesitate to send your message to info@turbomilk.com