Portfolio: Identity
Iconfinder
Logo-icon for search serviceWeb 2.0
The Internet features a multitude of search engines, for instance, inconfinder.net, which gets you icons matching your query. It happened that we have been approached by the project's creator Martin Leblanc, who requested a logo. Turbomilkers were extremely pleased by this range of events and zealously went straight to work.
As a rule, search engines have a simplistic and even minimalistic design, which makes a logo pretty mush the first and the foremost graphic object. We decided that it would make more sense to make a logo as an icon. But what metaphor to choose? How do we show an icon search? So we started sketching.
A bloodhound, a sheriff folder with a magnifying glass and an anteater (since icons are as small as ants) all competed for being the logo's metaphor. Sounds crazy!? But we went even further!
A series of sketches with magnifying glasses. First comes a magnifying glass — the symbol of search. Icons are rather small as a rule, and magnification obviously comes in very handy. "This is it!" — we thought. But again we kept digging.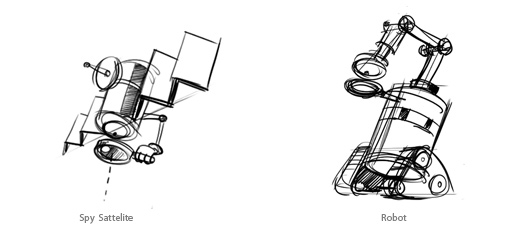 Robots are what we need when we are talking about search and cooler logos. Thus, the metaphor covers three attributes of an icon search engine: a magnifying glass for search and a symbol of minuteness of icons, and a robot as a symbol of arrangement. We showed the icons to the client and Martin responded: "You know, guys, we like the robot idea very much also." So what we had to do is to color the robot and add textures.
The picture became rather disturbing: as though an orange square with hands and legs (an icon) had been hiding for a long time and a giant robot has finally found it! Note the level of detail of the robot — it's a pity that a lower resolution does not show all the gears and bolts.
Later we added the project's name in a stylish but simple font. Everyone was happy!
Project participants
Denis Kortunov — Creative Director
Valeriy Namazov — Designer
Evgeniya Rodina — Illustrator
Related entries
Terms of Use

The pictures seen here are for evaluation of Turbomilk work's quality only. No icons or graphics may be used public or private for any purpose. All rights reserved.
Our Services
Many companies all around the world have already become our clients and are very pleased with the quality of our work. We are glad to offer the following services:
Please follow this link to learn more about the prices for our services. Should you have any questions related to our work process, you are most likely to find answers on our FAQ page.
If you are interested in our services or want to clarify on something, do not hesitate to send your message to info@turbomilk.com