Portfolio: Identity
Bingo.ru
Logo for online shopOnline shop
The developers of Bingo.ru online shop approached us to draw a logo for their project. The guys wanted to have a sign that would reflect the "Shopping is Fun" spirit but at the same time be "contemporary, dynamic, abstract, bright and vivid". A precisely set task is have the way to the success! We thought about it and drew this logo:
In the process of creating the logo the client made a political decision to write the project's name in Cyrillic letters. We supported this decision:
Later we drew a business card that takes into consideration all possible positions and means of communication: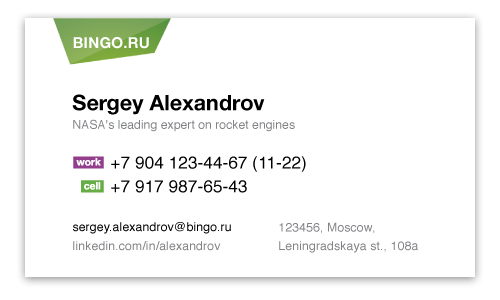 And the favicon came as a dessert:
Bingo!
Project participants
Terms of Use

The pictures seen here are for evaluation of Turbomilk work's quality only. No icons or graphics may be used public or private for any purpose. All rights reserved.
Our Services
Many companies all around the world have already become our clients and are very pleased with the quality of our work. We are glad to offer the following services:
Please follow this link to learn more about the prices for our services. Should you have any questions related to our work process, you are most likely to find answers on our FAQ page.
If you are interested in our services or want to clarify on something, do not hesitate to send your message to info@turbomilk.com