Portfolio: Icons
Begun
Pictograms for the leader of web context advertisingWeb portal | Finances | Advertising
One day we have been approached by Begun (pronounced beh-'goon), the leader of the Russian context web advertising market for a set of icons for all types of goods and services that appear in their ads. Context ads with pictures attract more attention leading to a higher CTR (level of conversion).
Begun features a certain type of ad modules containing thematic icons. Our wonder parser looks through a site being advertised and identifies the theme; the icon to be displayed is picked based on this theme. The indexed text may sometimes slightly deviate from the ad's theme, therefore we need icons that would not clearly depict the theme but merely trace it out. The allegory should be correct though, so that a subject on repairs would not display a car icon but, at the same time, the icon should not be perceived as repairs only. Would you conceptualize such contradiction? Alexey Shmelev, Begun
Despite our tradition we started off with icon styling rather than sketching. We spent quite a lot of time thinking about the most appropriate style for icons to be used in context ads. You need icons to attract attention to an ad module but not to distract from the ad itself. You should avoid a lot of details here. So we resorted to good old pictograms for being universal and easy-to-read. Plus, being vector graphics they are easily scalable.
So we chose flat pictograms with corporate green gradient for filling. Old Begun's icons were confined in rectangular shapes and we suggested losing any kind of confinement. On a plus side, here a pictogram becomes a part of a page's design and an ad is not alienated; an icon can be slightly larger without wasting space for margins. Here is how the new ads would look like:
We have considered also the fact that ads may vary in terms of design and should adapt to the design of websites of placement. Our pictograms look great with any color scheme and module orientation.
Later we started sketching and drew a whole multitude of sketches. Here is just a small part of it: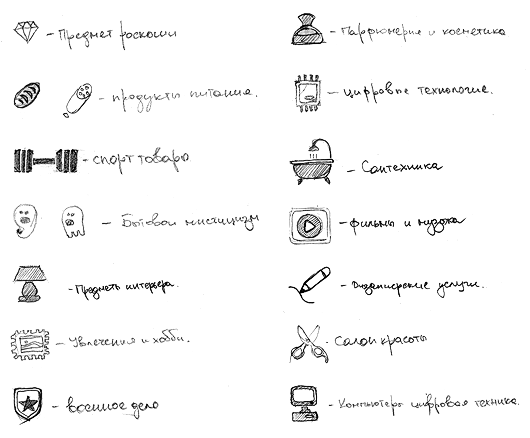 Then we sat down and it took us several weeks to draw over a hundred pictograms.
About Begun
Begun is the founder and one of the leading companies in the Russian web context ad market since 2002. Thousands of media partners including the most popular Runet sites such as Rambler, Mail.Ru, Afisha send hundreds of thousands visitors to Begun's clients' websites. The network covers all the active audience of the Russian Internet represented by over 20 million people a month.
Project participants
Terms of Use

The pictures seen here are for evaluation of Turbomilk work's quality only. No icons or graphics may be used public or private for any purpose. All rights reserved.
Our Services
Many companies all around the world have already become our clients and are very pleased with the quality of our work. We are glad to offer the following services:
Please follow this link to learn more about the prices for our services. Should you have any questions related to our work process, you are most likely to find answers on our FAQ page.
If you are interested in our services or want to clarify on something, do not hesitate to send your message to info@turbomilk.com