Portfolio: Icons
Intuit QuickBooks for Mac 2011
Financial application icons for Mac OSCRM | Finances
Intuit produces accounting software. Their vast range of products includes QuickBooks for Mac application, which allows issuing invoices, paying against them, handling expenses and many more. For more updates of the program until version 2011 the developers required many icons in Mac OS style, which we drew with passion and love.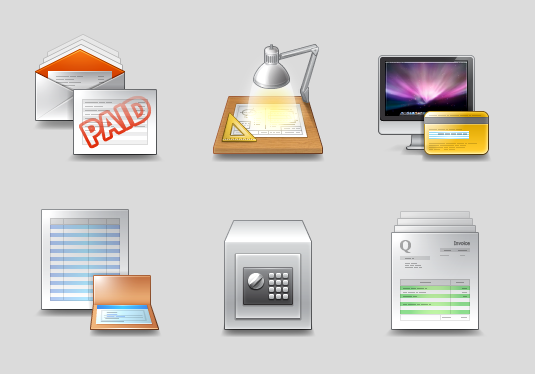 Some large 64×64 icons


Many average 48×48 icons


Very many small 32×32 icons


And a short set of 16×16 icons

We have transferred graphic files with icons to Intuit developers. They, in their turn, made a pleasant interface in the best traditions of Mac OS.

QuickBooks for Mac 2011 main screen application

Icons 32×32 have snugly fitted the application toolbar:
Every user can tune the interface for himself. Here is an example of a set of icons that we can get to the main toolbar:

You can assign 54 various functions!
About Intuit Inc
Intuit Inc. is a leading provider of business and financial management solutions for small and mid-sized businesses in USA. Intuit's flagship products and services, including QuickBooks, Quicken and TurboTax software, simplify small business management and payroll processing, personal finance, and tax preparation and filing.
Intuit has been ranked in Fortune's "America's most admired software companies".
Project participants
Related entries
Terms of Use

The pictures seen here are for evaluation of Turbomilk work's quality only. No icons or graphics may be used public or private for any purpose. All rights reserved.
Our Services
Many companies all around the world have already become our clients and are very pleased with the quality of our work. We are glad to offer the following services:
Please follow this link to learn more about the prices for our services. Should you have any questions related to our work process, you are most likely to find answers on our FAQ page.
If you are interested in our services or want to clarify on something, do not hesitate to send your message to info@turbomilk.com