Portfolio: Icons
Ingeniux
Icons for content management systemCMS
We have produced a large set of icons for CMS by Ingeniux. Do you also like this combination of blue and orange we used? The palette matches the corporate colors of the company.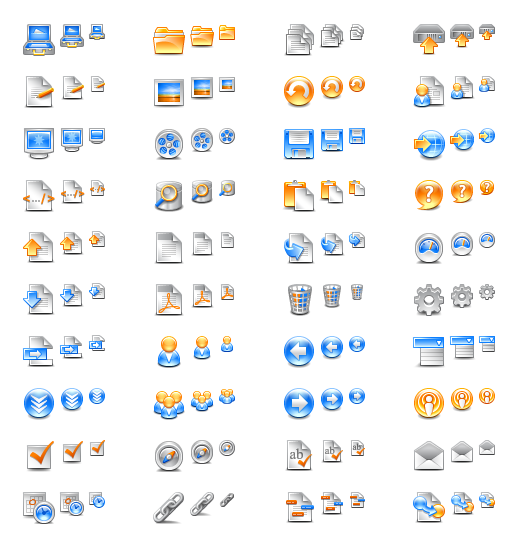 A part of the set was ordered in three sizes: 32×32, 24×24, 16×16 pixels. Every icon in each size was drawn separately and with great attention to detail.
About Ingeniux
Ingeniux was founded in 1999 by a team of Microsoft veterans who met while developing the Web publishing technology for MSNBC, the Web's largest news site. MSNBC's need to massively repurpose content in multiple formats and for multiple publishing partners provided the inspiration for Ingeniux CMS, an XML-based Web content management solution that inherently addresses the challenges of managing complex, content rich Web sites. XML is the key to the Ingeniux solution, providing the ability to cost-effectively structure content, format it for delivery to any target, and easily transport information to and from the enterprise.
Project participants
Related entries
Terms of Use

The pictures seen here are for evaluation of Turbomilk work's quality only. No icons or graphics may be used public or private for any purpose. All rights reserved.
Our Services
Many companies all around the world have already become our clients and are very pleased with the quality of our work. We are glad to offer the following services:
Please follow this link to learn more about the prices for our services. Should you have any questions related to our work process, you are most likely to find answers on our FAQ page.
If you are interested in our services or want to clarify on something, do not hesitate to send your message to info@turbomilk.com