Portfolio: Characters
Illustrations for Boonex
Cheerful little fellows as illustrations for the siteWeb 2.0 | Web portal | Social Network
Once we've been approached by a client from as far as sunny Australia named Andrew Boon, the owner of Boonex.com. His company produces specialized software products and helps in developing complex projects such as social networks, blogs, web communities and dating sites. Besides, this is also a large portal with a multitude of talking and useful information.
The client requested to draw 16 mid-size vivid illustrations picturing little fellows that add to the overall friendliness and positive atmosphere of the portal.
This time we need a few well detailed icons, high quality, as they work as a sale-pitch. Something of high detail level.

Icons for "membership levels" — Starter, Advanced, Premium, Moderator, Agent, Admin. So they are similar in theme, but should distinguish levels somehow. There are 16 icons. Andrew Boon, Boonex
We started off with sketches:
Close but not the cigar. We kept searching.
The following group of sketches is done in a different, more cartoonish manner.
A happy man (Starter profile) is excited about opening a software package.
Advanced profile — a more experienced user, relaxed and a bit complacent.
We add serious girls to the Agent profile and get a comment from Andrew:
Looks good!

Although I really like the style of both men and women, I'd ask you to stick to "males" for now, just to be sex-consistent throughout the line. We may however have another line for "female" icons for entire set though.

So, with novice and advanced — I like them, in their standing positions, so please develop on that. Have the same "guy" in Agent suit, etc. Andrew Boon, Boonex
This comment lifted our morale and we kept working further. :)
The decision was made to draw little people in the suggested style but full-size. And here is what we got:
Starter. Based on the client's description, the little fellows had to be placed against transparent background with a shadow hinting at the environment. Pure minimalism.
Advanced. A user with a notebook and a little tux-clad fellow for the Premium account.
Agile Agent with a cell phone and a Moderator wearing a splash suit. As you can guess, the moderator has a tough job to do! :)
Brave savior of everything the System Administrator holding a magic wand. The guy just comes in and fixes everything in total silence! :)
In the process of working with the icons, characters become more complex and additional features appeared. Here is how Partners look like.
Boonex's logo in the About icon.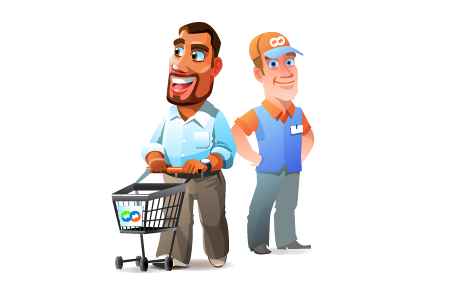 Let's go shopping into the Market area.
Got a problem? A fellow from the Support section will always be able to help you out!
The Web-site icon.
Account — access to the personal data and profile.
Blogs, bloggers and the readers in the Blogs category.
Little fellow from About Us.
Forums icon.
And finally — Members icon.
Close-up on a page fragment.
So please visit Boonex.com to meet all of the little people we created.
Project participants
Terms of Use

The pictures seen here are for evaluation of Turbomilk work's quality only. No icons or graphics may be used public or private for any purpose. All rights reserved.
Our Services
Many companies all around the world have already become our clients and are very pleased with the quality of our work. We are glad to offer the following services:
Please follow this link to learn more about the prices for our services. Should you have any questions related to our work process, you are most likely to find answers on our FAQ page.
If you are interested in our services or want to clarify on something, do not hesitate to send your message to info@turbomilk.com