Portfolio: Web-design
Homepage.ru
Moscowites' homepageWeb 2.0 | Web portal | Social Network | Startup
Once upon a time, two very mysterious fellas arrived into our office from the capital of our nation. They told us about their plans to create a large and interesting portal about the Moscow's lifestyle. They had themselves some prototypes too! We have gotten extremely exciting to participate in such a large-scale project and went straight to work.
"We've attempted to come up with a set of unified content units — i.e. we were worried that the units with places, events and topics and other things were too scattered in the prototype. Could we have this stuff unified to improve the overall usability of the page?" Wondered Nick Zayarniy in the midst of the project meeting
The portal's structure appeared daunting — endless menus and sub-menus, multiple pages. We had to make things look as though everything was nice and easy — in the best traditions of Web 2.0
We have finally generated a calm well-balanced template with contents put right upfront.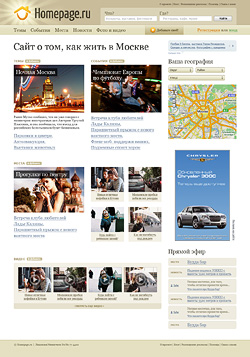 Home page
Then, we proceeded with internal pages
We have drawn a set of unique icons for the site:

One of the zestful features of Homepage.ru is that all events come up before the user right on the map. It is so cool.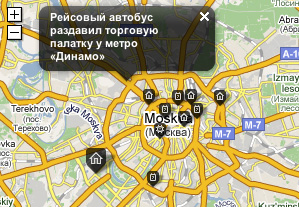 We have created special customized dropdowns for the geotargeting (pardon the lingo).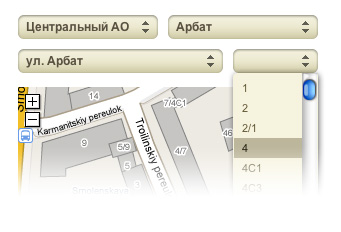 Homepage.ru is a lively, constantly evolving project. New pages, units, and sections appear every now and then. Developers always come to us for new imagery. So here is how the "crisis" appeared!

…and this is a New Year's snowed-in header…
…or check out this banner for a competition.

We totally enjoyed working on this project. And would like to take this opportunity to extent thanks to our two mysterious fellows mentioned in the beginning of the post.
Project participants
Terms of Use

The pictures seen here are for evaluation of Turbomilk work's quality only. No icons or graphics may be used public or private for any purpose. All rights reserved.
Our Services
Many companies all around the world have already become our clients and are very pleased with the quality of our work. We are glad to offer the following services:
Please follow this link to learn more about the prices for our services. Should you have any questions related to our work process, you are most likely to find answers on our FAQ page.
If you are interested in our services or want to clarify on something, do not hesitate to send your message to info@turbomilk.com