Portfolio: Icons
Oversun-Scalaxy
Icons for a hosting and cloud computing company. Hosting
Oversun-Scalaxy has launched a large-scale service for providing hosting and computing for resource-intensive sites and internet/telecom applications. To clarify on the purpose of the service and to stress its advantages the company needed special icons.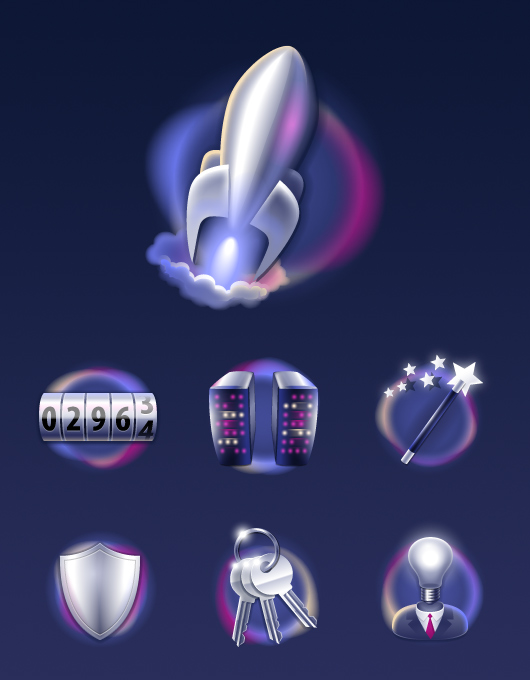 You are also welcome to visit the site of Oversun-Scalaxy (also our creation) to understand the purpose of each icon. The icons are used not only on the site but also at conferences, for instance the company's stand at the 2010 Russian Internet Forum was decorated with our icons.
Hosting and cloud computing is a subject that requires precision in tuning from the control panel. And what control panel can do without icons? (it was a rhetoric question)
About the company
Oversun-Scalaxy has been in the cloud hosting market since 2008 and sees its primary purpose in increasing the efficiency of large Internet projects through cutting their IT infrastructure maintenance costs. The target audience of the company includes Internet projects with over 10 thousand daily visitors with expressed uneven load.
Project participants
Terms of Use

The pictures seen here are for evaluation of Turbomilk work's quality only. No icons or graphics may be used public or private for any purpose. All rights reserved.
Our Services
Many companies all around the world have already become our clients and are very pleased with the quality of our work. We are glad to offer the following services:
Please follow this link to learn more about the prices for our services. Should you have any questions related to our work process, you are most likely to find answers on our FAQ page.
If you are interested in our services or want to clarify on something, do not hesitate to send your message to info@turbomilk.com