Portfolio: Interfaces
Sportbox
Player that fits to any fanSport | Silverlight
Our friends from UIDesign Group offered us to design the interface for a video player to be featured on SPORTBOX.RU — the official web portal of Sport TV channel — using the fancy Microsoft Silverlight technology.
"Sportbox.ru is the first web portal in Runet that airs sport events in real time appended with the commentary of sportsmen, coaches and experts."
The logical placement of control elements adds to any fan's browsing comfort.
The Microsoft Expression experience turned out to be exciting and even addictive: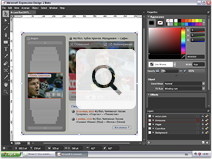 Microsoft Silverlight is a new cross-platform technology for data presentation on the Internet meant to serve as a replacement for Adobe Flash, Adobe Flex, Adobe Shockwave, JavaFX, and Apple QuickTime. It provides support for rich internet applications such as animation, vector graphics and audio-video playback capable of running on various browsers and operating systems.
Project participants
Terms of Use

The pictures seen here are for evaluation of Turbomilk work's quality only. No icons or graphics may be used public or private for any purpose. All rights reserved.
Our Services
Many companies all around the world have already become our clients and are very pleased with the quality of our work. We are glad to offer the following services:
Please follow this link to learn more about the prices for our services. Should you have any questions related to our work process, you are most likely to find answers on our FAQ page.
If you are interested in our services or want to clarify on something, do not hesitate to send your message to info@turbomilk.com