Portfolio: Characters
Fork for TravelMenu
Scullion Fork with unhealthy complexionTravel | Web portal | Startup
For TravelMenu project we needed a cute character for animating catering services and sputtering different phrases. The client really admired the MS Word's clip-shaped helper and it served as a prototype for the fork-chef.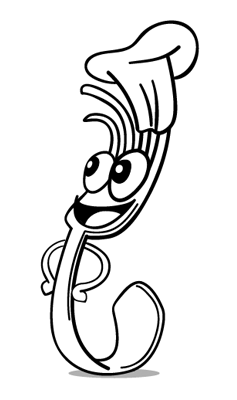 Nice fork, is it not?
The client enjoyed the sketch so much that we made a decision to embody the character in color and volume.
Don't ask us why the fork is green. This is the way it turned out. So what? Green is good!
It is proposed that our character will appear on the pages of the site and talk about things. It will be more exciting to present this fork in various poses.
Sketches of loitering forks
And this is a finished version of a couch-potato fork:
Project participants
Nikolay Komarov — Illustrator
Related entries
Terms of Use

The pictures seen here are for evaluation of Turbomilk work's quality only. No icons or graphics may be used public or private for any purpose. All rights reserved.
Our Services
Many companies all around the world have already become our clients and are very pleased with the quality of our work. We are glad to offer the following services:
Please follow this link to learn more about the prices for our services. Should you have any questions related to our work process, you are most likely to find answers on our FAQ page.
If you are interested in our services or want to clarify on something, do not hesitate to send your message to info@turbomilk.com