Portfolio: Web-design
Microsoft Web Platform
A piece of microsoft.comWeb portal
It happened that Microsoft Corp. approached us to develop design for a site describing web solutions based on the Microsoft's platform. We got excited and signed up for the project. Such an opportunity to work with the software giant does not happen every day.
But the task was not trivial. We had to work out a new approach to present the information by keeping it easy and simple. We wanted to avoid unnecessary marketing but still add some concrete stuff. First, we sketched out a prototype of the future site.
To make sure that the site would fulfill its mission, we thought about its audience and imagined possible user interaction scenarios.
Alexey — novice developer

Got used to working with PHP. Does not have any premonition against working with Microsoft's products but still does not a clear understanding about the advantages working with such. Alexey visits the site and sees the heading "3 reasons to build websites using the Microsoft's platform". Alexey is never against effective business solutions and affordable hosting but still he is more into another reason — he cannot survive a day without testing some new tools.

Lisa — designer

She is accustomed with using Adobe's tools with some experience in Flash. She is aware that Microsoft has launched some alternative to Flash but has not yet seen it. She would like to try it out to have a first-person experience.

Lisa visits the site and clicks "New tools and technologies" right there (Lisa does not waste any of her time and always targets her goals). In the information section she will see the "Designer's tools" button and voila — she has reached her destination.

Konstantin — small web-studio director

Konstantin has a general idea that the Microsoft's technologies could help in creating new web solutions for his clients integrated with the internal tasks (such as accounting and document flow). But Konstantin is stopped by the issue of price and extra efforts to cope with the staff's learning curve.

Konstantin visits the site and sees the heading "3 reasons to become a Microsoft's partner". "It looks enticing", — he thinks — "especially the part about training". In reality Konstantin was finally convinced by Gleb's happy look…
After such thoughtful preliminary work it did not take long to draw a layout for the home page. We took some liberty to deviate from the traditional cold-blue Microsoft's color scheme and added some bright warm colors. It turned out simple but cute.
One of the home page's cool features became the "talking pictures" — stories from the real people about their real life experience using the Microsoft's solutions.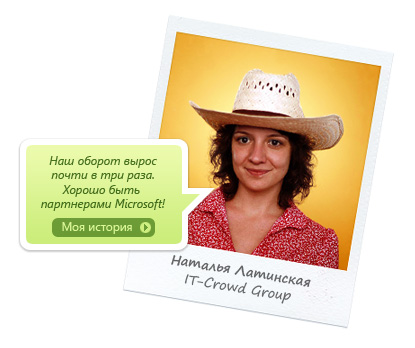 Plates with ragged edges are the zest of the graphic style. They are used in all materials related to the web solutions: the site, brochures, disks, etc.

Then we used all of our affection to draw the dynamic elements for the home page and layouts for the internal pages.
Unfortunately our participation in the project was limited only to the graphic layouts.
Project participants
Terms of Use

The pictures seen here are for evaluation of Turbomilk work's quality only. No icons or graphics may be used public or private for any purpose. All rights reserved.
Our Services
Many companies all around the world have already become our clients and are very pleased with the quality of our work. We are glad to offer the following services:
Please follow this link to learn more about the prices for our services. Should you have any questions related to our work process, you are most likely to find answers on our FAQ page.
If you are interested in our services or want to clarify on something, do not hesitate to send your message to info@turbomilk.com