Blog: Behind the Scene
Alfa-Bank decided to please its clients, partners and employees with beautiful computer wallpaper and icons and approached us with this task. "Alfa means first", — we thought and decided to devote the illustrations on the wallpapers to the trailblazers in various areas of human activity.
As you might have already noticed, we position Turbomilk as a studio perfect for drawing icons and interfaces without any other aspects of graphical works. In fact, we are clearly more than that. The only thing required from our client is the message: it should be as clear and simple as possible. Some time ago (rather long time ago) we started inventing and drawing characters. This is a traditional direction for studios that are involved in advertising but in the web and interface context it is a new direction.
The purpose of LondonClasses social network lies in connecting people who teach certain classes with those who need such classes. The author of the startup approached us for a logo, which would reflect the idea of trainings and display all benefits of the project. The project's name is arbitrary, since the developers planned for several sites – one for each city or state. Examples: LondonClasses.co.uk, CaliforniaClasses.us, SanFranciscoClasses.us, BirminghamClasses.co.uk.
Not so long ago Yegor Gilyov published his article "Exporting design comp from AI to PSD the right way" in which he told us about three steps required to avoid problems when converting AI-files to PSD. The required output is a picture that 100% matches its vector source.
I would like to deepen into the subject and show you a few useful tricks of using the Illustrator for exporting, which would save the time (which is always a limited resource), nerves (that unfortunately are not recoverable) and turn this process into a mere pleasure. So let's start:
Not that long ago our portfolio of characters was replenished with a new character — we drew a noble purebred aviator cat for Sindbad. For 16 years Sindbad offered to its users a convenient search interface for purchasing air tickets at the most affordable prices. The service provides for the best air fare deals Russia-wide and overseas.

Nowadays you can often times meet interface designers who gave up using the good old Adobe Photoshop in favor of vector instruments. In other words, in favor of Adobe Illustrator. The advantages are obvious: while working with the vector source one can better control the process than while working with a bitmap (even if it is split into layers). In a vector editor a drawn circle will remain a drawn circle and in Photoshop it will be just a multitude of painted pixels. Finally, in a vector editor it is much easier to create versions for screens with different pixel density (dpi) — Hello, Retina Display!
In honour of WordPress's thousandth theme, sold in ThemeForest (a huge graphic design store for websites and blogs), a competition for the best themed icon set has been organized. We had to draw WordPress-themed icons and compete with our colleagues from St. Petersburg Softfacade.
So it happened that we decided to participate in a designers' competition. At the first glance, there is nothing odd about it, since we are in the industry of design ourselves. The odd part about it is the object of design, which in this case was presented as an iron heating mains hatch cover. The point is that this year marks the 70th anniversary of the Kuibyshevenergo Headquarters — the owner of the heating mains. In order to commemorate this Voljskaya TGK decided to conduct a contest for the best design of hatch covers and later cast some of such anniversary covers in iron.
Spring is in full swing. To make it even warmer and more joyful, we drew the spring background for the LiveJournal service. Green grass, blue sky and turbolaunchers are made by our designer Alexandr Pavlov. Enjoy!
Sometimes ago we participated in a competition for new icons for the Livejournal interface that we successfully failed, so to speak. You know how this happens. However we have the icons left now. We decided to place them until the later times and available for free.
We have updated our "About us" page – now it is largely devoted to our team. You can learn interesting facts about each of our staffers and you can rest assured that all of them are rather nice-looking (here is an insight on the photo shoot). Check out the list of all Turbomilk accounts in social networks and friend us everywhere. Also, each completed project in our portfolio is undersigned by each respective Turbomilker involved in it.

Creating icons is a rather conservative area of design. Often a new and original icon works much worse than a standard and conventional one. But our industry does not stand still – new devices with new interfaces come into light and it changes the ways of operating such devices. It happens rather slowly but some trends are quite obvious.
A film crew of Channel One — the most prominent and popular channel in Russia — has recently visited our office. The reason for the visit was to record the story about how we thought up and drew the characters for the 2014 Sochi Olympics mascot contest. The main heroes of the report — Igor and Eugenia — were a bit worried and excited but pull themselves together and told us about the creative process.
On November 12 Moscow hosted the traditional Google Developer Day, which I gladly visited.
We have a page on our website where you can learn about the whole company and each Turbomilker individually. But there is just one tiny problem with it – it has not been updated for quite some time. Also, the pictures on it are not really cool. We'd rather have something more professional.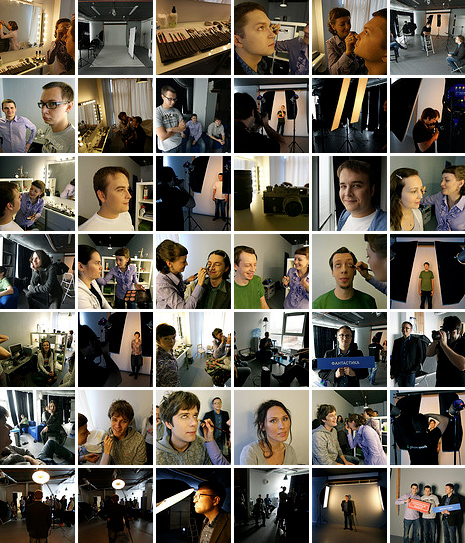 Over the past few years, the 3D graphics technologies have been developing at sky rocket speed. The calculation algorithms of photorealistic images, increase in the number of processor cores and the RAM volume (as well as the new GPU rendering technology) have made it possible to obtain high quality pictures while working from home. 3D has become a powerful tool of graphic design. There are a number of unarguable reasons for using the 3D approach with speed of operation being the most substantial.
Better late than never! 404 Fest was a real success! All employees of Turbomilk have contributed all of their souls and efforts into organizing the event. We have spent some quality time and are grateful to all the participants who came to the fest or drove a long distance to be with us. The festival was absolutely colossal!
And also check out the updates we made to the Rabbit-no-way page in our portfolio. We added some images and pictures there.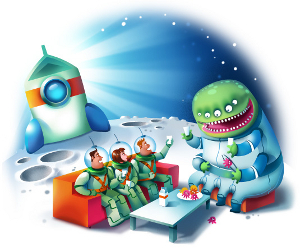 On October 20, 2010 Moscow hosted the "Cobbler With Shoes" award ceremony — the first award in Russia and CIS republics to give prizes to web agencies and design studios. Our cozy and pleasantly looking site won the "Best Service Presentation" nomination, took a special prize for "Precise Company Positioning" and also entered the short list for "Best Communication" and "Best Web Agency Site" nominations.
In the coming fall the next (third in a row) festival of web developers, Internet evangelists, designers and other supporters of the industry will be held in Samara. You are welcome to learn more about the event, its history, organizers and participants here and this article talks about the mascot we developed for the upcoming event.
The RF President's twitter is followed by over 60,000 people and bots taking into account only its Russian version. Beside contents, this microblog is also famous for its visual identity (aka userpic). Not many of you know that it was created by Turbomilk.