Blog: Secrets from the Chef
Looking for an alternative to Basecamp: review of PBworks Project Edition
Strictly speaking, Basecamp should not be regarded as a project management tool. Even its developers agree to this. "Basecamp is the leading web-based project collaboration tool"—says the official site of this highly respected program in large font. Basecamp is a communication tool. It is alternative to emails. Basecamp will not be able to measure the work load for the whole team nor for each member individually. Basecamp is also unable to evaluate the realism of set deadlines. Instead, it simply helps us at exchanging the required information inside a team and with our clients. Hence, it does not make much sense comparing Basecamp against Microsoft Project, or Copper Project, if we are talking about online solutions. These great products solve completely different tasks.
Why bother wasting time talking about it? The point is that we should look for alternatives to Basecamp not in the "Project management tools" section but in the "Collaboration tools" bunch.
This bunch reveals an exciting world of wiki engines tailored to the needs of small businesses to various extent. Generally, these tools are rather scary-looking and appear to be difficult from handling perspective at first sight: it is not obvious what button should be pushed first to start things working. Introducing such wikis is the business of enthusiasts who strongly believe in the power of wiki environment and able to cast this belief down to the people surrounding them. Fortunately, we also see engines with more human face that general people like you and me would have no trouble handling, such as: Jive SBS, Socialtext, Confluence, PBworks. In today's review we will talk about the latter. To be more precise, about PBworks Project Edition. As it becomes clear from the name, this solution targets the Basecamp's niche of project collaboration tools.
What Basecamp calls a project PBworks calls a workspace. Here in PBworks each workspace dwells under a separate subdomain. So, if we (Turbomilk, the company) do a project for company XYZ, all the communication will be concentrated under turbomilk-XYZ.pbworks.com.
Here is how a new project's (workspace's, to be exact) homepage looks like:
The main difference from Basecamp: a project does not appear like a blog. I.e. the pages are not places in a linear sequence but live independently and link to each other when necessary. At first, such freedom is discouraging. It becomes obvious that the system will require extra efforts to keep all the necessary information at the fingertips: placing links, placing pages into folders and assigning tags to them. Frankly speaking, I should say that it is not always easy to find the required information in Basecamp, especially if we are talking about a lengthy project. The tags for instance would come really handy.
In PBworks you can mark any page with one or several tags. For instance, we can introduce tag "sketch" and placing "tag:sketch" in the search box will show us all the pages with sketches. All the tags and pages marked with tags can be seen at "yourworkspace".pbworks.com/tags.php address. However, it is very displeasing that the address should be placed manually in a browser's URL box (no link as such is available in the navigation). It is likely that the answer to it lies in the software's heritage of being a product for wiki-enthusiasts who can do it all. But even such tag handling is better than nothing. Besides, any links forgotten by the developers can be easily added to the SideBar panel:
You can add anything to this panel and it will be visible on all pages within a workspace. It is extremely useful!
Yet another handy function helping at keeping all required information at your fingertips is stars. Any page can be marked with a star and unlike tags the stars are individual for every user. In other words you will not be able to see stars left by another user. You can easily see the pages marked with stars in the navigator to the right:
Another important difference from Basecamp is notifications. In Basecamp we add project members to the notification mailing list each time we create a message. On the contrary, in PBworks each user selects when he wants to be notified. By default a user gets hourly notification on changes in any pages, if such changes have been introduced. If you wish, you can, for example, order notifications only upon making changes to the starred pages and not more frequently than once a day:
But is it necessary for the guest users, i.e. customer representatives, to receive hourly updates on every sneeze from our side? Of course not. In order to keep the customer away from the irrelevant details, we can set up the access rights for each page individually:
Pages in PBworks are edited using a visual editor with enriched text-formatting features. It clearly appears to be typical for any contemporary wiki-engines. Today it is rather hard to make a user learn the special wiki language, and obviously it is not the case here.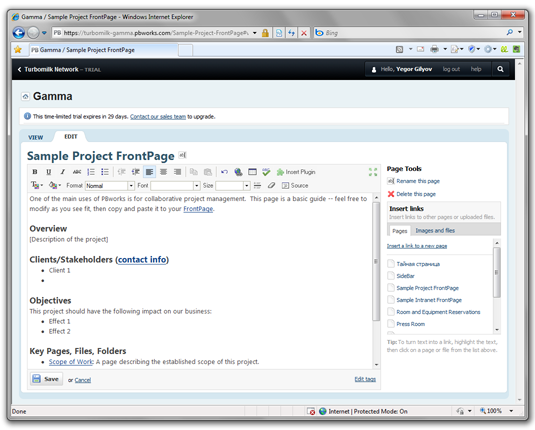 And, of course, just like any other wiki engine, PBworks saves various versions of pages. It is similar to what Basecamp offers in the Writeboards section. User is enabled to review older versions, compare versions and undo them if necessary. And all these features are available for every page. You can, for instance, create a page with a complete description of task and introduce changes to the task as you go along. Unlike Basecamp where we introduce extra changes and sentences to the original text as comments, in PBworks you can simply edit the text without worrying about saving the original – it is handled automatically.
All of the above are the features of a contemporary, useful and rather nice wiki engine. But what really stands behind the "Project Edition" tag in the name? First of all, as I understand, it refers to the ability of introducing "free of charge" guest users into a workspace. Otherwise we could hardly talk about using this project for communicating with clients in a small service company, since the customers would easily outnumber the employees, and it would be rather hard to pay for each user for being too costly.
Besides, every workspace features a special section called "Project". You can use it for setting milestones and assigning tasks:
It is obvious that this section is a side add-on to the system, and, as such, it is not it's strongest side. But even in Basecamp milestones and tasks are far from being the most important things. The main thing is communication!
So what is the bottom line? We need to say that the developers of PBworks have paid a titanic effort making their product more fit to the general people out there. However, wiki is always wiki and to be able to work with it one should be a little bit a wiki-psycho. Just a little bit. PBworks gives a much larger degree of freedom in organizing information than Basecamp, and you should be able to handle this freedom to avoid turning it into a chaos. If you are ready for it, the software is worth it.
For the most patient readers who read it up to here we have a special offer: tell us in two words why you are interested in this product and you will get PBworks Project Edition for 30 days absolutely free. In addition to that specially trained staff will help you set up the system. Clearly, the last part of the offer is the most essential part. A standard trial without any help from trainers) can be easily accessed at PBworks official site without any extra help from our side.
Related entries