Blog: Secrets from the Chef
Strictly speaking, Basecamp should not be regarded as a project management tool. Even its developers agree to this. "Basecamp is the leading web-based project collaboration tool"—says the official site of this highly respected program in large font. Basecamp is a communication tool. It is alternative to emails. Basecamp will not be able to measure the work load for the whole team nor for each member individually. Basecamp is also unable to evaluate the realism of set deadlines. Instead, it simply helps us at exchanging the required information inside a team and with our clients.
We have been using Basecamp (web-based project management and collaboration tool developed by 37signals) for many years. I will not be able to truly emphasize on how important this tool is for us since our clients are scattered around the Globe and all communication with them is handled online.
For small service IT companies like ours, Basecamp became a de-facto standard. On one hand it is very convenient: new users recently invited into our cozy Extranet have no problem getting around. On the other hand, we get the feeling that Basecamp is "too tight". And it is not surprising: you cannot please everyone and the guys from 37signals are well aware of that and not even trying.
There is hardly ever a person who could be surprised by a convenient and nice extranet system. "Oh! You are using Basecamp! Great!" — that is what our clients tell us after they have received an invitation to visit turbomilk.seework.com. Basecamp has become a de facto standard, and 37signals, its developers, showed up as recognized gurus of web applications design and usability.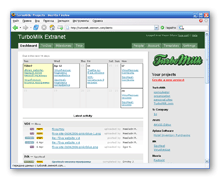 When we started using Basecamp, it felt like we are in heaven. The system simply did its job without making us think that we are too dumb to use it. A complete absence of tweaking options (except coloring the interface) turned out to be a great advantage of no necessity to spend the time and efforts to do that tweaking. Just launch — and work. However, after a year of active use of Basecamp (several dozens of accomplished projects later) I started to think we need to take a more sober look at this system.