Blog: Secrets from the Chef
These could be the new LiveJournal's icons
Long time ago three designers from Samara got acquainted with each other through LiveJournal. This led to talks and discussion over their own portfolios and works of others. And so Turbomilk was born. Clearly, when the competition for new icons for LiveJournal was unveiled, we got excited and went straight to work.
This was not our first project for LiveJournal: earlier we created graphics for a LJ iPhone app and drew icons for the LJ's 10th anniversary.
We thought a lot about what sort of things these new icons should be. We even had an opinion that icons are redundant there — all the controls could be implemented through text links or some context menu (as it was done on flickr, for instance). Or we could make outlined pictograms to keep things nice and easy.
But first we decided to analyze how the icons are used in LiveJournal now. For instance, you have to consider the fact that there are many alternative themes developed for LJ. Also, the service is visited by a multitude of users that are used to the icons and changing their usability habits would be inappropriate. And the main factor — this was a competition and we did not have a chance for a "second iteration", that's why we decided to draw what we are good at — traditional yet neat and juicy icons (so that bloggers get busy writing funny and positive posts).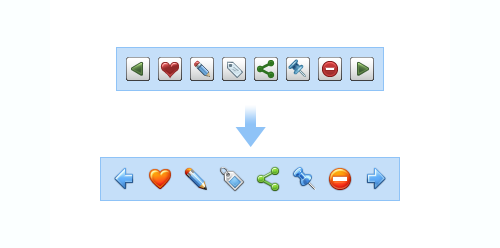 So what is that we decided to change? The main thing was doing away with supporting buttons. Why having them? They only create visual noise. We suggested that the absolute majority of users already use the icons without the buttons beneath them. So now we can make icons larger (24×24) and more distinct. They are lying in the page's plain and are a part of it. Plus we added some air between the icons, thanks to the width of the toolbar.
And please do not worry that the icons will look bad against a background different from a default LJ's blue screen. Here is the proof:
At the moment the same icons are used for the posting toolbar and for commenting. We proposed to use smaller size icons (16×16) for comments, so that users do not get distracted from the text. It also corresponds to the logical hierarchy: the post is more important than comments.
And this is how a friendly chat between two intelligent gentlemen would look like — by far less visual noise:
We also suggest changing some metaphors of the standard icons. It's not clear, for instance, why following a post is represented by a pin. If you care to follow, use binoculars! Or why an LJ user is bald? Let's give him a nice hairstyle!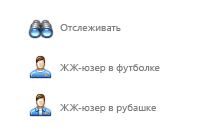 And here are all the new LiveJournal's icons shown on one picture.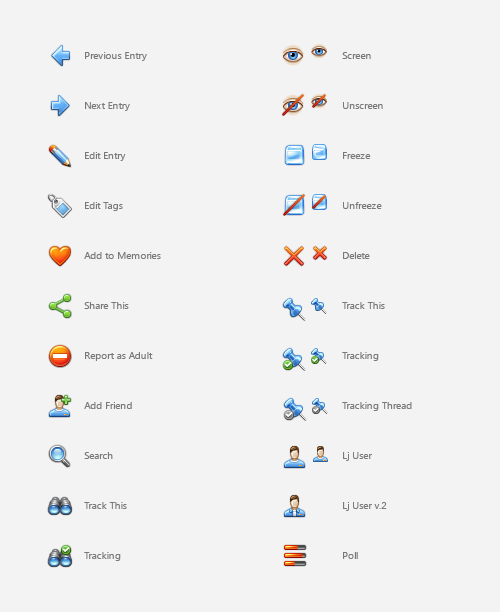 Unfortunately, the organizers of the competition did not appreciate our efforts. The winner's set can be found here in Art Lebedev's LJ. We are a bit stunned, to tell you the truth.
Related entries