Blog: Behind the Scene
Our life in Turbomilk is looking like ceaseless festival. We all are in holiday mood. But today we have yet another cause for joy and exultation! Happy birthday, Olesya!
Turbomilk congratulates cheerfully one of it's knock-out fathers. Happy birthday, dear Denis!
Friday means it's time for plobb! — Friday amazing game. My personal record is 50200.
We are happy to announce that December 1 marks the 5th anniversary of Turbomilk! By the way, do you notice anything new? Look around you. Yes! We got ourselves a new site! See how pretty it looks! It now hosts a nice little portfolio and the blog features a journal with snappy updates. All in all, life is great!
Our zealous readers must remember how we hosted our dear guests from Dominion this July. And prior to that we had paid a visit to that wonderful studio ourselves where we were treated with some tea and a Q&A session. So, what kind of questions can site builders have to interface designers? Luckily we got all the moves on paper and nothing will prevent us from sharing it.

We have an awesome office and we're proud of it. Location for example is the best possible — the centre of the city, the beautiful bank of Volga river. A way to work is just winsome. And the inside is good too — glassed walls, high ceiling, a giant window with sailing ships and Jiguly mountains behind it.

It would not come as a surprise for you that a man always tries to arrange his living within the bounds of his personal idea of beauty: the Amber Room or new IKEA rug, freshly painted cave painting next to the fireplace or a stuffed stuffed sword fish in the conference room — no principal difference here. The motive is always the same.
Turbomilk is happy to help the mankind in its aspiration to make the world a better place and to increase the enthropy to a whole new league. Do you remember our outstanding collections of free icons?
Some still ask how they can change one icon to another. The answer is easy. The most complex thing about it is to come up with a name for a sleepy walrus and what about that golden altar from the Monsters set. Let's suggest that our test object is the Annual Reports folder.
I have once expressed my regrets about the quality of Adobe Illustrator as a software package. The speed at which this beauty eats up the system resources is mind boggling! Drawing the first icon you are pleased to learn how fast it happens. But gradually with each new layer (object, raster or vector effect…) Illustrator slows downs and shifts into the idling mode. Since in the very beginning you do not mention it, later you hope that the reboot will "fix the problem". However things just get worse.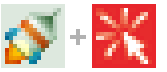 Designers have various dreams and wishes. For instance for so long we have cherished the idea of communicating with the likes to be able to share experience and brag about our new work not over the Web or thru emails but in real life.

Last time we finished off with sending sketches to the Invaders corrected and refined according to their comments. The invaders had a lot of discussions and tentacle waving. While they were killing the time all of their Gigantic Assault Squids contracted the Space Pox and died. Oops! There goes the bio-weaponry. The good old methods proved to be more reliable. So the decision was made to invade planets using flying saucers with powerful blasters like in good old times.
While the invaders still have their saucers up and flying, we decided to draw the Earth invasion icon first.
Sharp-sighted Craig Hockenberry from the Iconfactory have spotted the inconsistency between the new 3D Dock and the old good Apple Human Interface Guidelines. Craig draws our attention to the fact that the sidelines of the Dock's surface are sloping at different angles than the sidelines of the imaginary desk where the application icons are lying in the guidelines:
The floor displayed on the Dock does not use the perspective of the desk in front of you, nor does it appear as a shelf. Because there's a difference between the floor angles and the traditional desktop icon angles, many icons look wrong.
Rejoice, our young fans of digital miniature! The festival has finally come to your town. Turbomilk in my person is starting a series of posts on how we draw icons: from the moment of placing the task and receiving an advance payment to sending the final versions to the customer. Eugene Artsebasov, our illustrator, was so kind to assist me.
In our rapidly moving age of blogs, social networks and hordes of web-two-O projects, RSS-channels come as an important tool of information syndication. They feed news, reviews and other updates travelling to us through the Web like hydrogen-powered launchers. Many of our readers are long-time subscribers to our convenient and contemporary RSS-feed.
Last fall I made a brief report at a conference organized by RusCHI and 1C in the context of celebrating the World Usability Day. I was talking about designing a user interface icon language. Following the "better later than never" principle, I hereby bring the same report to your attention in the form of text with illustrations.
For many Mac OS X users Expose is the most favorite interface feature. And deservedly so, since it is very efficient and convenient for toggling between windows.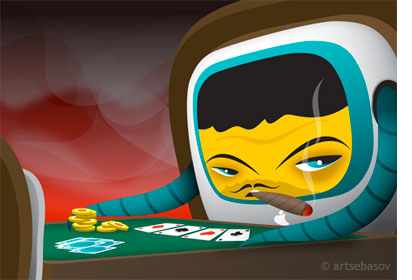 No wonder that Expose is often presented as a key advantage of Mac OS interface over Windows. "Ha-ha, looks as though Redmond tried to copy Expose but tripped over the limited capacity of its graphical engine," some may quip. "They must be afraid of being accused of direct plagiarism," others say. Is that so? Let's try to investigate.
Sometimes our designers get tired of traditional interface art and get lured by something off-beat. Do not go for any second thought, everything it quite straight.
Finder serves as a file manager in MacOS X. Its main problem is that it does not give the user the sense of location.
You still can produce a normal cone gradient in our beloved Illustrator. This process was uncovered in konischer-verlauf.zip file with a description in German, and, I believe, many of you have already downloaded and thoroughly studied it. In general my note repeats all of what's contained in this file, however, in English and with a few extra comments to clear up on things.
Let's recall the operating systems of the last century — the range of MS Windows up to 2000, Mac OS up to version 9. All of them supported only icons with one-bit transparency. Fortunately, the industry is moving ahead and the modern operating systems nowadays use the eight-bit transparency. However, for the sake of back compatibility Microsoft has recommended to include resources with one-bit transparency into icons made for Windows XP. With time the tinkering with turning the modern eight-bit transparency into one-bit was romantically coined "cutting edges" among icon designers. Today, I am going to talk about this "tinkering"…

As it happens the New Year found me working on a new computer running MacOS, the operating system previously unfamiliar to me. I can already hear the taunts of my dear colleagues: "What, only now? Where have you been?". "Why the hell you need it? Are you mad?" — others say. Alas, I have to disappoint you. A story about the reasons for not adopting Mac back in '95, '98, 2002 and 2006 along with explanations of why I finally did it will be left outside of this note. Right now my task is to share the first "hot off the press" impressions of working on the new platform. The things that impressed me and those that surprised. Please do not take these notes too seriously. So…
« Newer Posts 1 2 3 4 5 6 7 8 Older Posts »