Blog: Behind the Scene
We are very fond of drawing icons and other graphics for Apple's iPhone. First, it is very interesting and progressive. Secondly, the result you get is touchable! That's why if you need graphics for your iPhone application, we have a very special offer for you.
What do you use to keep your hands busy outside of home or work if you are already holding an iPhone? The answer is simple – download and play games. I like racing simulators. Honestly, I was rather skeptical about the first releases of racing games for the iPhone, since a good racing simulator requires buttons if not a steering wheel with pedals. "The iPhone is a steering wheel in itself", – my hero – an attentive reader – might object. Now imagine that you don't have to hold on to your steering wheel in your car because it is not attached to anything. You just have to swivel it in the air. Sounds odd? But the game developers together with Apple suggest that we do just that.
We have been using Basecamp (web-based project management and collaboration tool developed by 37signals) for many years. I will not be able to truly emphasize on how important this tool is for us since our clients are scattered around the Globe and all communication with them is handled online.
For small service IT companies like ours, Basecamp became a de-facto standard. On one hand it is very convenient: new users recently invited into our cozy Extranet have no problem getting around. On the other hand, we get the feeling that Basecamp is "too tight". And it is not surprising: you cannot please everyone and the guys from 37signals are well aware of that and not even trying.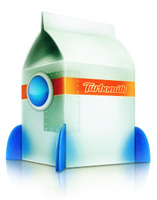 Our corporate Turbolauncher is finally materializing! Now everyone can make a symbol of our small but proud company. Developing your fine motor skills and engineering abilities come as a bonus. Check out our special launch pad for details.

Once upon a time Microsoft invented a cross-browser cross-platform technology for developing rich interactive web applications based on .NET called Silverlight. Later appeared the people who liked the technology and they created Silverlighter, a community of Silverlight supporters.
We have dreamt about our own music Turboserver for quite a while. Dreams come true as you know! We have finally made ourselves a luxurious music storage available to all employees via LAN and iTunes. It would take a month of continuous listening to appreciate the entire music collection! But that's not all…

You would not believe it but in 1985 Apple asserted an idea in its developers' guide to replace text messages with icons wherever possible. As though icons would be more clear to a novice user than words. Of course this is bollocks. It is much easier to express any idea in words.
Our clients are the most wonderful people. We are grateful to them for becoming what we are in our market arena. As a token of appreciation we made this page devoted to them. (Frankly, we that page before but we have completely reworked it and while doing that we felt kind of nostalgic.)

When I visit a supermarket I sometimes engage in somewhat indecent activity amidst endless shelves with groceries. I like to peek into other people's carts. I observe what other people buy. But it is not some useless habit. Sometimes I happen to like some buyers and I pick the same products from shelves. This way I have discovered for myself a range of tasty products and many extraordinary but useful things.

It rumored that Apple is intended to change its default gamma correction value in Mac OS Snow Leopard. From the ancient times this value was set to 1.8 and it will be replaced with 2.2 (exactly the same value as in Microsoft Windows). What does that mean to us? Images will look the same in both operating systems (right now the difference can be spotted in dark areas). And the operating system [Mac OS] itself will look different — GUI elements well get darker and more contrast. We are curious if they redraw Mac OS to meet the new gamma value? And what would happen to the icons that have been already created?
We keep hearing from many people: "Why don't you display anywhere on your site how much your icons cost?" And we depress our eyes and mildly ask to send us an email for quoting in response. But everything changes. Turbomilk wants to be a simple and clear service. We have finally published a page with prices for our services. And we also made an FAQ page to address any issues you may have.
We are unbelievably happy that Apple has finally launched iPhone sales in Russia. "Better late than never", so to speak. To mark this occasion we created wallpaper for the iPhone in Turbomilk style.
As it happens Microsoft has awarded Turbomilker Denis Kortunov the Microsoft Most Valuable Professional title in Expression. Now we will gain access to the knowledge from the secret Redmond's labs and the supporters of "Turbomilk was sold to Microsoft" theory got another trump up their sleeves. Everyone is happy!

The staff of our little but proud icon-making company would love to congratulate with all its heart the site about "how to live in Moscow" on its launch. Frankly speaking we never expected that everything would turn out as cool as it did. Long live Homepage.ru with many visitors roaming your pages! Besides, Turbomilkers were also involved in production of this site.
Many people fail to differentiate between a GPS receiver and a navigator but it seems to me that the scope of application for the global positioning is much wider. If you fit a GPS module into simple and utilitarian things, you may create new and surprisingly useful possibilities. And if you through in the Internet and add some social networks ad gustum — the impossible becomes real.

Our good friends from d.workz approached us for help in creating an interface for their Stitcher version for the iPhone. The work demanded the best.
You might have already noticed that we here at Turbomilk promote creative thinking with regards to everything including simple things. Take, for instance, our long-suffering bottle! It appears that with some knack you can create a real tornado or gobbling twister inside the bottle. Such harmless tricks brighten up our working days. And what kind of office entertainment do you promote?

Our friends from Thematic Media had an idea of creating a community of football fans with role-play elements. They came up with the name — Dribbler on their own but let us draw the logo for the project.
We have clearly decided that we need to conquer absolutely all social networks. The first one in our list is Facebook. You cannot escape it! Please do not forget to add yourself as our fan.
Today is a Friday. This means it's time to shoot some bugs.
« Newer Posts 1 2 3 4 5 6 7 8 Older Posts »