Blog: Behind the Scene
I will start with stating that I am not a fan of web 2.0. I consider this term to be rather ambiguous. No, I am not against social networks, I would vote for AJAX with both hands, and I am writing this article straight to our blog. It makes no sense to me why one would need web 2.0 if not just for fooling venture capitalists. However, regardless whether we like it or not, this term enters our life and our clients start asking us about "web 2.0-styled" design.
And what is "web 2.0-styled" design? Letters pictured with reflections? Rounded corners? Let's drop these cliche's for being infinitesimal and consider some examples. I took some liberty to compile a short list of the most vibrant, as I see them, representatives of the new wave in web design.
It may seem that the peaceful coexistence of two different platforms, Macintosh and PC, within one office has long ceased to cause problems. No one could imagine that it is in our age of going global and of open barriers that we'd find yet another catch in a thing as easy as preparation of pictures to show intermediate results to the client. Sit back and get all eyes on this teaching story.

It is a must for every designer to know what Google Image Search is for. It has a secure place in my top ten of the most frequently visited web sites, alongside with LiveJournal and our Basecamp. All the time you have to be looking for metaphors for your icons. Or to be looking how the next secateur looks like. Sometimes you feel the need to give your eyes a feast of looking at a masterpiece of the world art!
You are probably beginning to boil over — it's been three weeks since Dmitry revealed the mysteries of the vector stage of icon creation, so where is that continuation? Let me tell you why we made no haste.
The thing here is that we always try to cut down on this raster stage as much as possible. We take pains to dally that moment when we minimize Illustrator and launch Photoshop. I wish I'd never see that Photoshop! Where do I get that hatred to all designers' holy cow? It's nothing personal, I assure you. There is nothing bad I can say about Adobe Photoshop as a specimen of the class of raster editors, let alone the fact that it is crafted with more quality that our beloved vector-based Illustrator. My dislike lies not for the specific product but for all methods to edit an image whilst they are based on their raster output.
At the dawning of my creative career the one and only vector-based drawing program was Corel Draw. I didn't even care to think there were any other. Corel Draw was perfect until you had to rasterize your work. It was the worst I have ever seen in my life. To import your work in Photoshop, you had to save the vector in the EPS format, which is alien to Corel and kin to Adobe, losing some effects at the time.
Thus, my acquaintance with Adobe Illustrator was the result of despair. Yegor, he is a true martyr. He went through Corel Draw, Xara and Macromedia Fireworks, and he had yet a lot to suffer, hadn't he chosen Adobe Illustrator. And it was only Denis the smart boy, who decided to master the vector-based thing by Adobe and even bought a book on the subject.
I'm saying all this to let you know that Adobe Illustrator is not the choice dictated by our ideology, as some might think; it is the only tool suitable for making vector-based icons. Had we the opportunity, we'd eagerly change it for something else. Illustrator would have won the first prize in the contest for the worst and most carelessly written $500-priced program. The quantity of errors stuns your mind and sometimes makes you just livid. Well, let's not go too deep in the sad thoughts…
Once upon a time we received a letter from Mr. Anton Tretyakov (Internet). He asked the following (we retain the original spelling and punctuation):
"Hello! Tell please in what programs I can bigin making icons. I am a designer and know basic graphic programs. I am interested in the steps of drawing."
That's one strange question, isn't it? One should have looked a bit deeper and read our wonderful blog. It would have become clear that we are using Adobe Illustrator and Adobe Photoshop. Of course, we didn't get upset with Anton's paying little attention to our work: his letter let us furnish our blog with a series of articles about the tools we are using.
Quite recently, Turbomilk (represented by me, with assistance from Yegor) led a week workshop of interface design for DesignCollector. We thought about this for a little while and decided, why not posting all those mini reviews in our own blog? These hyperlinks are a must-know for anyone, who is into interface design.
We'll start with the world-famous icon builders, and then move on to interface design tutorials. I do not even have a grain of doubt that the links to the following sites will find their place in your Bookmarks/Favorites, next to the link to Turbomilk.
There is an opinion that non-standard theming is a property of an entertaining, non-serious application suited, in any case, for home, non-professional use. Moreover, this opinion is carved in the holy testimonies of Windows UX Guide:
As a general rule, application theming is appropriate for programs where the overall experience is more important than productivity. Highly themed applications should be immersive, yet only used for short periods of time. This rule makes theming suitable for games and kiosk applications, but unsuitable for productivity applications.
Non-standard visual style equals enemy of productivity. This is gives as an axiom. Is it really so?
Last week I promised to tell you how to make the right cone gradient in Adobe Illustrator. I must keep my word, and I have nothing but to reveal this secret on the example of the same compact disc.
First we'll have a little brainstorm. I'll give you a couple of clues and you try to make that cone gradient by yourselves. If you are lucky you can save your time and skip reading this article. Do here we go with the clues:
Linear gradient
…
Effects → Warp → …
Can you make out anything? Or not too much?
Once upon a time there was a conversation about the various opportunities, advantages and disadvantages of vector-based drawing programs, and it was then that Yegor said, a hint of sadness to his voice, "I wish we had some cone gradient at hand, like we do in Corel Draw". To which I had a delicate question, "Ah, why would you need the cone gradient?" I've been feeling uneasy about this question for many years. Who would ever need such a trite thing as the cone gradient? Yegor said, dreamily, "It's so good when it comes to drawing compact discs!"
Our professional specifics sometimes requires that we draw a wide range of everyday life objects, CDs included. It is true that creating a CD icon is a painstaking process over and over again. How good it would be, had we an opportunity to take two circles, cut one of them from the center of another and apply the cone gradient to the object. Tempting, is it not?
Everyone knows, though, that Adobe Illustrator does not allow you create those cone gradients. How should we draw this CD in Adobe Illustrator then? All right, my beloved reader, I hope you are ready! If need be for preparation, I would recommend reading my article "Pure Vector". Don't forget to turn on the Scale Strokes & Effects option, it's the last time I remind you about it.
There is hardly ever a person who could be surprised by a convenient and nice extranet system. "Oh! You are using Basecamp! Great!" — that is what our clients tell us after they have received an invitation to visit turbomilk.seework.com. Basecamp has become a de facto standard, and 37signals, its developers, showed up as recognized gurus of web applications design and usability.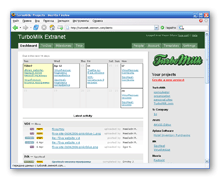 When we started using Basecamp, it felt like we are in heaven. The system simply did its job without making us think that we are too dumb to use it. A complete absence of tweaking options (except coloring the interface) turned out to be a great advantage of no necessity to spend the time and efforts to do that tweaking. Just launch — and work. However, after a year of active use of Basecamp (several dozens of accomplished projects later) I started to think we need to take a more sober look at this system.
We are a small office, and sometimes it happens that you fell all alone early in the morning or late at night. Working becomes impossible. Grief and sadness kick you off the working mood. We'll get rid of this problem right away and make ourselves a new colleague, never hungry and never tired.
Many of you are likely to take good care of their health and order pure drinking water (it can be even iodized) delivered to your office in big nineteen-liter bottles. Those bottles are a gloomy and hideous sight, whatever measures dispenser designers take. Well, it's all in our hands! Let me tell you…
Many of you are likely to be using such bitmap effects as Blur and Feather to get nice highlights and shadows. It would be good, but if you were to rasterize such a picture in high resolution you would either have to pre-set the high resolution of the bitmap effects or to enlarge the picture itself in the Adobe Illustrator. Below are some simple tricks to allow you get rid of all that fuss and create modern nice scalable icons (and not only the icons) without using bitmap effects.
I should confess of being skeptical as to 3D modeling in icon design. Really, on the 32×32 or even 48×48 scales these technologies have no room to swing a cat. Simple objects are easy to draw without modeling and complex objects will be a mess anyway. Slight mistakes in perspective building are not critical, whereas it is more important to match the lines with the pixel grid which is done only manually. Shades and highlights will look better in such a limited space if a skilled hand does that instead of a machine — and not at the expense of the result!
But times, they are changing.

Many are already aware of the cunning evil Linux users having devised a way to use vector-based icons in the GUI… What will they use to create them? Now that's a good question! They started making their own vector-based drawing program. Linuxoids are strange, but nice and generous people. No wonder their editing program is platform-independent and free. It is called Inkscape.
As a matter of fact, this icon — the logotype of Inkscape was created with this program.
What now? Inquisitive minds go to the official web site and download the version for their platform (the Mac OS version is about 14Mb, and about 8MB for Windows) and then try to create something. All the rest go on reading.
A couple of hours ago, on the Olympia Stadium, Turin, the Flame of the XX Winter Olympics was ignited. Now that's a good point to recall the pictograms which go beyond computer interfaces. Traditionally, every Olympic Games have a unique set of pictograms representing various sports. This is how we have a brilliant opportunity to look at different approaches to one and the same task of design.
Why did I pay attention to this product? According to Microsoft's idea, the Expression family of products is intended to satisfy the needs of interface designers for Windows and for web. Thus, Expression Graphic Designer (MSEGD) is to be the first tool specifically intended for designing interface graphics (except Flash, but Flash has a much more limited scope of application).
Its "brother" is the Interactive Designer, which is promised to fulfil the eternal dream of interface designers, that is, to create interfaces without the programmers' involvement (do not mix it with RAD Tools. It had quite different objectives).
Breathtaking prospects. Launching the program…
If one studies the evolution of user interfaces since the 80's of the last century up to now, it is difficult to get rid of the feeling that the trade of icon-building, which hardly was able to become an engineering science (e. g., in the Macintosh System 7 interface) can now be regarded as a fine art (Windows XP and Mac OS X).

InvisibleCRM is a technology provider of tools engineered to increase user adoption and ROI while working with enterprise applications.

Nivaria Content Manager is a complete CMS solution built by Nivaria primarily to cover it's needs of fast and cost-effective web site development…
« Newer Posts 1 2 3 4 5 6 7 8 Older Posts »