Blog: Secrets from the Chef
Enlarge your icons
A small icon is OK! It's nothing to be ashamed of; it's not a big deal. Icons can even be very small or plain tiny. This has been their iconic fate. For many years it was the reality and everyone was happy. But something went wrong. All of a sudden, icons got big!
Everything developed at lightning speed. Microsoft was the first software company to announce that its new OS Windows Vista — would feature 256×256 pixel icons: a whole 8 times larger than the standard 32×32 size, which was always big enough for most purposes. Apple hit back with their 512×512 pixel icons for Mac OS X Leopard, followed by the Ubuntu operating system, with vector icons of undefined size.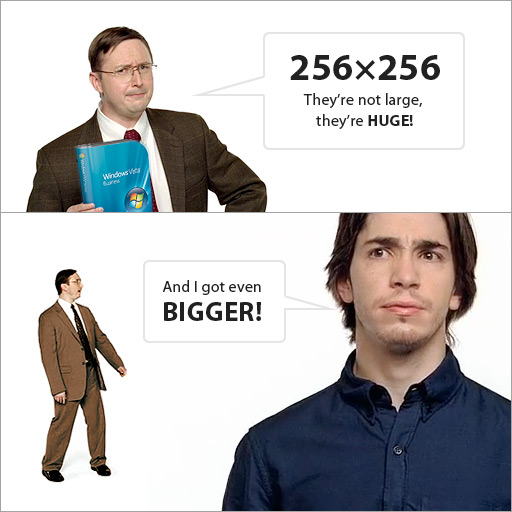 By the way, the size of this picture is exactly 512×512 pixels. Now you are able to place an entire comic strip into an icon! (Characters courtesy of Apple commercials)
Wikipedia tells us: An icon is a small pictogram on a computer display. Oh, how wrong you are, our dear hand-crafted encyclopedia! This is how a Leopard icon would appear on a 14″ monitor with 800×600 resolution:
Computer simulation, featuring an IBM monitor and an icon from the Agua set.
In the past few years, screen resolutions have increased by 2 or 3 times. Why bother enlarging icons?! What's next? Let's take a look into our crystal ball and make some predictions:
Icons will not be drawn but photographed. The main challenge will lie in "cutting" an object from the background.

"Missed the icon!" will sound like an insult.

Very soon we will see 1024×1024 pixel icons appear.

One icon will be used for several functions: all you'll need to do is to click different parts of it.

Video icons will appear, starting with short movies, soon followed by feature films. Tom Cruise will get an Oscar for playing Mr. Sheet in one of them.