Blog: Behind the Scene
Report on Creative Future 2010 Conference
Not very long ago the delegation of Turbomilkers visited a conference for creative professionals called Creative Future 2010. There are not that many events targeting designers held in Russia, so we went to Moscow without much hesitation. The conference's venue was a great choice – Oktiabr cinema on New Arbat.
We were a bit late for the beginning, so we managed to skip the line at the registration. We got the magic hand bands that kind of snapped themselves on our wrists and served as the passes to the conference. We were also given a large paper bag with Adobe's logo on it with useless papers inside.
The most curious place at any conference was, of course, the lobby. The cinema's hall had several rather interesting stands. We could actually get our hands on various designers' tools…
…draw on the magnificent Wacom Cintiq 21″…
…take Apple's computers for a spin…
…and even play with Apple iPad, which is not yet on sale in Russia.
I really liked the report by Victor Lakisov on "Whether you need a creative approach in creative visual effects", which was held in the video and postproduction section. It's not really obvious what a graphic designer could learn from this report. But it's only the first impression. The attention to detail and the creative approach are required everywhere.
Whereas the report by Andrey Razumovskiy on drawing masks was not really exciting. Andrey has some very cool works but he sucks as a presenter and his Photoshop skills are not really something to brag about. In the allotted timeframe he could have told us a lot of interesting things if he was a little bit more prepared.
In general, the program was rather comprehensive. It's a shame that we could not attend all the sessions.
The number of participants was surprisingly large. Actually there were too many people. On one end – it's a good thing that design is an interesting subject for such a wide audience. On the other end – it was sometimes a problem to locate a vacant seat in the hall.
We could spot very positive young people in the audience, which was great.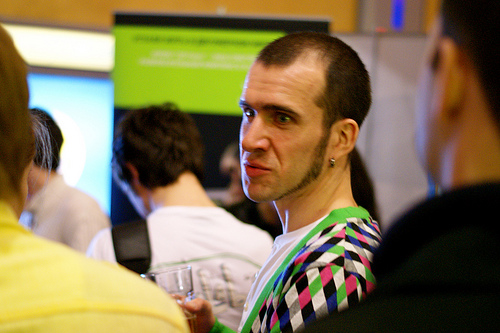 Sometimes we saw very unusual characters…
…I would pay extra cash to this designer just for the looks.
The other thing that we remembered was the closing party – it was the shortest party on my memory, hence there is no picture. It took just 9 minutes from the start to the moment we ran out of all the snacks and drinks :).
The overall impression of the conference was positive. Maybe it would make sense to turn it into several specialized events next time with separate sections on web, video and print.
Related entries